Pug106 Styling - Wheels and Tyres
Choosing a Wheel Size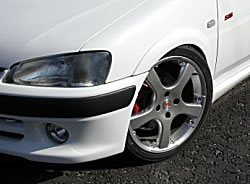 17's on a 106 S16
The correct rim spec for a 106 is PCD 108/ET16.
ie: an offset of 16mm.
This is the same as used by the Peugeot 306 and Citroen Saxo and Xsara.
More common Ford fitment rims (PCD 108/ET 35) can be used with 18mm spacers.
All 106's can accept 14" or 15" rims without any major problems as long as the correct offset is available in the style of rim you wish to go for. A set of 15's should produce the best package for handling on all models, although they may cause slight scrubbing on models without the wheel arch extensions.
GTI's, XSi's and Quiksilver's can use 16" rims without much hastle but will still require some minor wheel arch modifications. Other Models can have 16" rims fitted but they may cause regular problems.
17's aren't really an option on a non-GTI / Quiksilver, although it has been done, but even on these models, fitting such a big rim will require major arch work and are unlikely to ever fit 100%. Definitely problems with back seat passengers will occur and if the car is loweredmuch more than 30-40mm it is likely the tyres will rub on a regular basis.
It should be noted the handling and performance of the car will suffer on anything bigger than 15's, although 16's won't hurt too much. 17's will degrade performance and handling quite considerably, and many 106 owners share the opinion that 17's just look too big for the small car, but then it's all about personal taste.
There are body kits available, such as the Dimma Wide Bodied, or Peugeot Sport Maxi kits, that will allow the use of 17's or even 18's with the necessary modifications.
In general, the opinion amongst most 106 onwers are that 15's are the way to go for value, performance and hassle free driving, while 16's, on one of the sports models, are best for looks while retaining most of the 106's great handling. Toyo and Dunlop provide great 194/40/15 profile tyres that work very well and are available at www.mytyres.co.uk.
As well as diameter and offset, rim width is also an important issue. Ideally, you shouldn't use a wheel wider than 7" on a 106, although it is possilbe to use 7.5" wide wheels on the sports models, as long as it's not running too low. If possible stick with a 6.5" width for minimum problems.
Peugeot 106 Tyre Sizes
Below is a table of tyre diameters, which can be applied to any car to calculate the correct correct choice for tyre size on oversized alloys.
The rows which apply to an standard bodied 106 are marked with a * although some wheel arch modifications may be required.
* 14
185
55
15
195
50
* 15
195
45
* 16
195
40
16
195
45
16
205
45
* 17
205
40
18
215
35
Click here to go back