Pug106 ICE - Competition Spec Systems
When building a system of competition standard, or even if your just after a high quality install, there are certain things which should get attention right at the start. Things like a high quality head unit/sound source, soundproofing the car, upgrading the power supply etc.
Once the basics have base has been set, you must decide on what sort of system your going to build. An all round performer will aim at the SQ+ class which provides a strong, high quality sound.
SQ, SQ+ or SPL ?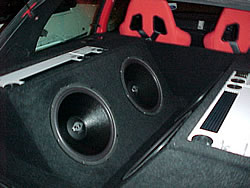 150+ db SPL Based System
with four 15" Subs
SQ (Sound Quality) Systems which are designed to produce a high quality sound, with as little outside noise as possible. This sort of system would usually consist of fromt components, a subwoofer, external amplification and a equaliser for fine tuning the setup.
SQ+ (Sound Quality & Volume) Systems which, again, are designed to produce a high quality sound, but this time with some serious power behind it too. The setup would generally be similar to SQ systems, but all components of the system would be of the highest standard. Amplification for the subwoofer would likely come from a dedicated amplifier, with a power source backed up by a capacitor. A maximum of two subwoofers would be present, although 3 way components up front may be used up front to provide some frontal low end sounds. All round heavy sound proofing will be required.
SPL (Sound Pressure Level) Systems are basically aimed at one thing, which is producing as much noise as possible. Actual sound quality from these systems is often ruined by the bass heavy subs. Sound proofing around the area where the subs are installed is essential, and lots of time must be spent tracking down and damping rattles throughout the car. Upfront, anything goes. As meationed earlier, these systems are about being loud, so you'll probably find several subwoofers mounted in the rear and several sets of speakers mounted up front too, all being powered by several amplifiers.
Installation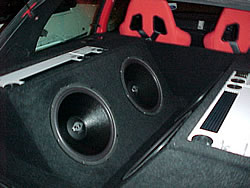 150+ db SPL Based System
with four 15" Subs
If you are intending to enter ICE competitions or just want things done to a high standard, then it's the installation of the equipment that will make or break a system.
Everything from the battery connections, to the trim on the boot install matters, and for a top quality installation, nothing beats taking your time.
Good installs aren't really a hard thing to produce as long as you take your time and keep your patience. See the 'How To' guides (Members Only) for more info on ICE installation.
Click here to go back