Pug106 ICE - Adding External Amps
Latest head units are being released with high power built in amps, but these still cannot match the sound quality of an external amp.
External Amplification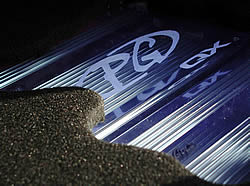 External Amplification
Adding an external amplifier to your system will give you a cleaner power source that can drive your speakers more smoothly, which results in a cleaner sound at higher volumes.
Apart from the improved sound quality, most external amps offer the ability to set crossover points which helps in setting up a complete system so that the subwoofer can handle all the low end sounds and the midrange and high end speakers can concentrate on what they do best.
To drive a subwoofer an external amp will be required because the power required to do so, is much greater than a head unit could supply.
Subwoofer Amplification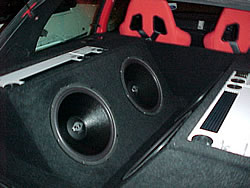 Subwoofer Amplification
Powering a subwoofer, or even several subwoofers, is slightly different to other speakers in that both the left and right channels should be mixed together and played as a single channel. To do this at the amplifier you will either a monoblock or a bridgable amp.
A monoblock amplifier basically takes the two RCA inputs and creates a single powerful output. Bridging and amplifier means pretty much the same thing, but bridging is where there is actually a two channel output, but you wire it up in such a way that you combine both channels and produce a single channel to drive the sub, or subs.
Some 4 channel amplifiers have the option of bridging two of their outputs, so that effectively it acts as a 3 channel amp, which can power both a set of speakers and a subwoofer.
Generally, subs will require much more power than other speakers due to the larger cone size, and therefore the extra load of air they have to work with.
Amplifier Installation
False Floor Amplifier Installation
Mounting the amps is one of the main parts of a quality install. Luckly, Peugeot's are amognst the easiest cars to build a good looking install, and this is because of the spare wheel.
In the 106, the spare wheel is held in a rack below the boot floor and not inside the boot itself, so building an install in a false floor is a common option.
The side of the boot is nearly flat so building an amp box at the side of the boot is another common option.
Click here to go back